Division 1 Preview
Hello FM Members! Today I am giving you the division 1 preview! Enjoy.
(all lineups are predictions btw)

Angry Bulls
Captain:
ESPierre
Prediction:
4th
Per-Falk-Vak/ESPierre-Mullewa
Angry Bulls proved they are worth division 1 level in the past seasons.
Losing their great dm called Misaj was a big loss previous season, BUT they now made some big signings like Vak and Falk who played for The Greys in Season 22.
With Mullewa upfront scoring the goals again the attack shouldn't be a problem. Angry Bulls won HCL 2x, one time with Misaj and one time with Linas. ESPierre
and Mullewa play long together so they have a chem link for sure, same goes for Falk and Vak.
Interview with ESPierre

What position do you think your team will end? And why?
We want to be champion this season. We've made many mistakes in the past seasons. To make ameds, we must be champion this season.

What are AB's strengths and weaknesses?
We've made two transfers to our team. We're a strong team in offensive direction.
Our team's weakness is our defence because we're going to play together for the first time.

Is there any player who will suprise everyone this season?

jasko, I think he will suprise everyone.
---
archNemeses
Captain:
jasko
Prediction:
8th
lajz-MartYK-jasko-ins/Alekos
archNemeses winning division 2 previous with 2 loses, 3 draws and 17 wins! With some new signings like ins and MartYK, jasko is looking forward to next season.
Ins, a good striker who joined aN after an unexcepted disban from GoodFellas.
MartYK a good dm who can for sure make many chances in attack for aN.
This team can suprise everyone, so it's hard to tell how they will do.
Interview with jasko
What position do you think your team will end? And why?
I think mid table is realistic,
we will certainly be fighting to avoid being relegated and at the moment we aren't really in the rhytm and adapted to each other,
so time will tell what we can achieve.
What are aN's strengths and weaknesses?
Our strength is probably discipline, calmness at least until this point and the weakness is that we had to fill some gaps in the team so now we have to find the right lineup, chemistry to get back on track and that might take time of course and we might suffer at the start of the season.
Is there any player who will suprise everyone this season?
I think from our team everyone can do amazing things at times, but in my opinion we all lack consistency game after game, fs after fs, so I wouldn't be able to highlight a name. When it comes to other teams I would say SAKY should show a lot and improve even further, but I don't know if anyone will be surprised with him playing well after last season.

--
Chimera
Captain:
Whiplash
Prediction:
2nd
Maldo-Splat-Whiplash-ALAN10
Chimera, winning season 21 division 2 AND cup, winning cup in season 22 aswell.
Whiplash didn't make many changes to his team, which is understandable as his team did very nice in Season 22, in 2nd place.
Whiplash himself is playing am for his team, where he is doing a very nice job.
Splat as one of the best dms in Division 1 in the previous season is dangerous aswell.
ALAN10 winning top assister in Season 22 which makes him valuable. Maldo a very strong gk, getting top cleansheets in Season 22 AND Season 21.
Interview with Splat
What position do you think your team will end? And why?
I don't care too much about the position that we finish in personally,
more importantly for me is that we are among the strongest teams in terms
of our gameplay which I believe we will be. If I had to give a prediction it would be
somewhere from 2nd-4th position as I don't think our team is best suited to the league format.

What are CM's strengths and weaknesses?
I think our main strength is the fact that we are a consistent lineup
for some time and we know what to expect from each other/ how to play
well with eachother which is something that is unfortunately uncommon as
it seems majority of teams are switching lineup every half season.
I don't think we have any clearly defining weakness aside from the fact we don't play often together
except for the matchdays maybe also the fact we don't have much depth in our team. Another strength
we have is that we will always respect our opponents and give fairplay if we score a goal unfairly as to not
affect the integrity of the league which is very important ofcourse.Normally that wouldn't needed to be listed as
a strength as it should be expected right? but, unfortunately some teams in the league don't adhere to the same p
rotocol which is a real shame for the competitiveness of the league.

Is there any player who will suprise everyone this season?
I don't think there will be any surprises from any players within Chimera this season.
With Maldo we have got the best GK in the game hands down in both offense and defense. With Whiplash,
we have got an AM who is easily one of the most talented and consistent players in the game on both ends of the field.
Myself, Maldo and Whiplash enable our team to have a strong, stable defense which is essential for how we play which
is inherently defensive due to our reluctance to play for keeping the possession unthreateningly in the opposition's
corner which completely defeats the purpose of the game. Our striker ALAN10 adds an element of spontaneity to our
team, with ALAN we have a striker capable of winning games on his own through solo actions but also he serves as a
rock in our attack unfazed regardless of the opposition and he is consistently scoring goals when we need them the
most. We also have Whimsical who can play every position at a high level and if activity permits him he can play a
huge role for us in the season in a multitude of positions. For other teams I think they are many to look out for
but mainly focusing on division 1 I think Yawn of KE, Mullewa of AB and aguero10 of Quickswans are players to
look out for as I think their individual performances/activity will be pivotal for the performance of their
teams as a whole in the season. Will be interesting also to keep an eye on the two 2nd division's as I
believe due to this division 1 is going to be even more competitive in the next season with the strong new
teams being accepted such as Skins, Gladiators and Elite69.
--
Klub Emeryta
Captain:
kojo
Prediction:
3rd
ox-Fritz-SAKY-xSha
Klub Emeryta, winning Season 22's title! kojo much changes to his squad for this season.
Signings like xSha, SAKY, Fritz and Yawn could turn out very nicely for them.
xSha winning top scorer title back to back (ssn 21 and ssn 22), very talented player.
SAKY winning div2 with aN + top scorer. Fritz just got back from haxball and is almost at his topform.
This team is for sure one of the most who can win this season.
Interview with Whitee

What position do you think your team will end? And why?
After winning the league last season, we decided now to create some chill team.
We still want and try to win every game, but its hard to predict our final place, since we are a new team in the end.
If we finish in top4 it would be a good achievement for us.
What are KE's strengths and weaknesses?
Our strength is that we have a balanced defense and offense, means that we are able to defend well and still score some nice goals

Our weakness is that we have a new lineup and we signed also new players recently, so we still need to get some more chemistry.

Is there any player who will suprise everyone this season?
Watchout for SAKY and xSha!
--
Mighty Ducks
Captain:
huub
Prediction:
9th
ptichka-huub-hyo1-Rooney1878
Mighty Ducks, one of the teams who is rated low in div1. They have some interested players.
For example: their captain huub and Rooney1878.
All 3 special players which can give MD some wins and succes. huub, a dutch dm who I think is the key for MD.
Rooney1878 as former captain, great player.
Interview with huub

What position do you think your team will end? And why?
Well on paper the first division is very strong right now, I think anything better than relegating would be very good for us,
alltho id be madly annoyed if we would.
But now there are 4 teams relegating, its gonna be very tough for sure.

What are MD's strengths and weaknesses?
Our strenght.. Im not really sure, lately im quite happy about the level we show during fs'es etc.. that makes it alot more enjoyable,
and I think most players feel that way seeing the activity, so maybe our mentality ( xd ).
Also ill be leaving in a month to Estonia,
Im not sure if Ill be able to play from there, but we will see, it would be really shitty for me if I couldnt.
Not really any weakness, alltho its sometimes quite hard for us to score even while theres plenty of chances

Is there any player who will suprise everyone this season?
A player that could surprise might be hyo1, with a bit more calmness he could become an average player, and
nestro made lots of progress since the first few weeks he joined this team, so who knows where his limits reach.
--
Nightly Artists
Captain:
Sodasson
Prediction:
7th
Sodasson-Baffo-L4W-NaNi
Nightly Artits, coming from division 2. They had an incredable Season 22.
They lost their AM, Willian which is actually a big loss. BUT coming into Pre Season Cup final
with their new signing NaNi really made them dangerous.
Interview with Sodasson
What position do you think your team will end? And why?
i think we will finish the league 5th or 6th position. The team is always the same, and we have only changed one player, so the chemistry is always the same, and then with NaNi we found nice chemistry with him and is a very good player

What are NA's strengths and weaknesses?
We really like playing in this awesome league so we always do our best to improve and win, speaking to each other to make everything clear. This tho leads to the weakness, we usually (Expecially L4W and Baffo xd) tilt a lot during games, and even after.
Is there any player who will suprise everyone this season?
Me? ahahaha joke, probably Alekos because we know him very well and we know how skilled he is, even though i think most of the community knows it
--
OMERTÁ
Captain:
CvRk
Prediction:
5th
irvi-CvRk-Altidore-Styl
OMERTÁ, having a decent Season 22 in 3rd place of division 2. CvRk signed 2 new players called Styl and Altidore,
who both played for Bullets in Season 22. Styl, all time top scorer is upfront and Altidore from the team Stiff Wind,
who won HCL 2x. I am sure this team will stay at divison 1. CvRk winning div1 in season 19 with KE, which makes him alot more dangerous aswell.
Interview with CvRk

What position do you think your team will end? And why?
My aim is always the highest so I believe we could win the 1st division.
We brought some new faces to the team that improved our gameplay so
we should be able to compete for the very highest position.

What are Á's strengths and weaknesses?
Our strong point is simply the way we play, most of our players have similar thoughts about our
gameplay which helps us playing well together. Weaknesses are up to opponents to find out.
Is there any player who will suprise everyone this season?
I think Dinx could have a breakout season if he will play regulary in TPP. He didnt play much in the league yet but definetely has the potential to shine.
--
QuickSwans
Captain:
Mish
Prediction:
1st
Pringles-Isco-Yannex/aguero10-MARBLE
QuickSwans having a sad 3rd place in previous season, as they were doing really great and they were at 1st place for a long time.
Mish has signed aguero10 who is one of the best am's of feed me. Together they form a kinda Seeders line-up, who are most likely to
win this season. They have been playing for a long time together, really great chem link. Isco is also a dm with fast passing, which
fits Yannex, aguero10 and MARBlE well.
Interview with Isco
What position do you think your team will end? And why?
Our main goal this season is to win the championship,
I think we are able to achieve that goal, we got in each position a few options and all of our players are really great.

What are QS's strengths and weaknesses?

I think our strength is that we have a good chemistry playing together.
Well idk about our weaknesses yet, maybe we should start the league already and find out.

Is there any player who will suprise everyone this season?
I think saky and xsha are gonna have a great season
--
Trailer Park Penguins
Captain:
Nocke
Predicition:
6th
Nocke-wroz-Necro-ANDREA
Trailer Park Penguins, 5th place in div1 Season 22 which is really nice for a team who just got in div1.
Nocke made some new signings like wrozbita, and ANDREA. 2 very nice players who can maybe push TPP
higher then previous season. Losing xSha as their striker is a big loss, but ANDREA is a very good replacement.
wroz giving captaincy away to zPooKy (FLAMES).
Interview with Nocke
What position do you think your team will end? And why?

Every season you have to strive to do better than the previous, so we will have to go for top 4 at least.
What are TPP's strengths and weaknesses?
I would say that one of TPP's strengths is our ability to play well together, while a weakness could be that we sometimes tend to be inconsistent.

Is there any player who will suprise everyone this season?

wrozbita.
--
Wolfgang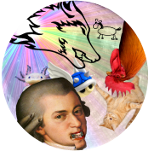 Captain:
Herna
Prediction:
10th
Herna-Barca-Rautovic-anglo
TuT renaming into Wolfgang. Wolfgang being 4th place in division 2 of season 22 and now they are in the strongest div1 so far.
Wolfgang has some nice players like Barca who got back from a little break. Rautovic coming back at haxball after 5 seasons already!
Time flies. anglo, a great member of the feed me community and did nicely in the previous seasons, alltho lacks activity. Herna is normmally
DM, but as Barca joined, I predict him to play gk. Wolfgang is for sure the one team that is rated low this season, but maybe they'll suprise you,
you never know hehe.
Interview with Herna
What position do you think your team will end? And why?
Hi, my team is still getting formed which makes it impossible to predict.
Every team in division 1 likes to win the league, but the hard first matches will
be quite a challenge, don't know if we are ready for that right now. In the end i
just hope we have fun and become a strong team, so we are at least able to challenge
for the highest position ??
What are Wg's strengths and weaknesses?
All of the players are really well known and experienced, most were captains of a team themselves
in a past. The quality for everything there, but forming a strong team out of it and finding a
few more perfect additions for it wont be easy. That's why I think our weakness is right now is
missing team understanding.
Is there any player who will suprise everyone this season?
I don't think anyone of them is able to surprise as they all became champions or
2nd placed with their teams in the past already, only myself not, but I don't think
anything I do will surprise anyone anymore aswell, so yes, idk.